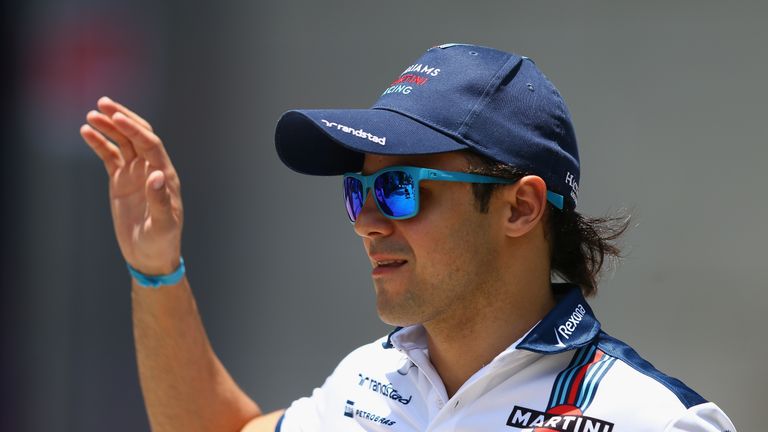 Felipe Massa has discovered a new lease of life at Williams and proved wrong those who felt his podium-finishing days were behind him.
It was easy to depict the Brazilian's career as being on a downward spiral when he was released by Ferrari after eight seasons in the winter of 2013/14, especially as he was joining a Williams team which had just registered the worst season in their history.
But if 2014 and 2015 represented the rebirth of Williams as an F1 force then so did it for Felipe's career, the popular Brazilian claiming his first pole position in six years and five podium finishes - two more than he achieved across his final three years in Fernando Alonso's shadow at Ferrari.  
Certainly, Massa had the good fortune of joining a Mercedes-engined team at the onset of a new era which has been so far been dominated by the German power unit. It was actually the first time in Felipe's career that he had driven an F1 car without a Ferrari engine in the back of it, his relationship with Maranello beginning as long ago as 2001, when he was a 20-year-old Euro Formula 3000 Champion.
It was with Ferrari's long-time engine customers Sauber that a very wet-behind-the-ears Massa initially joined the F1 grid in 2002, however his fast-but-erratic style failed to impress more often than not.
After a year spent back at Ferrari finishing school in a test role, a more rounded Brazilian was loaned back to Hinwil for two further seasons before his big chance came in 2006, when Jean Todt chose him to succeed Rubens Barrichello as Michael Schumacher's team-mate.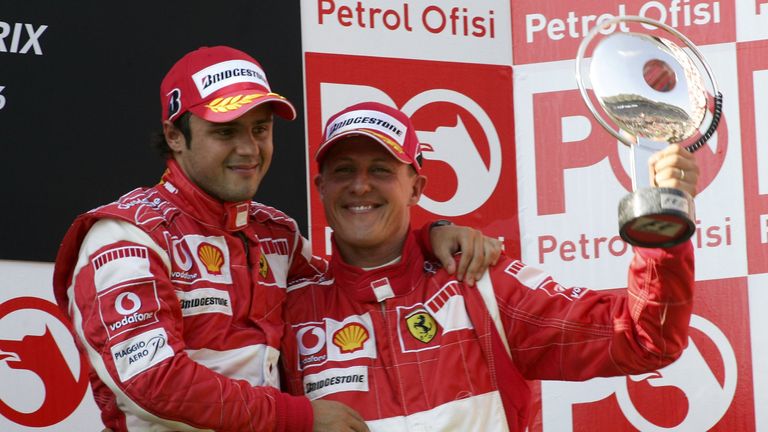 The Brazilian performed more than admirably after a slow start to the season and was soon challenging the title-chasing Schumacher in both qualifying and races. He claimed two victories - in Turkey and Brazil - with the latter seeing him become the first Brazilian since Ayrton Senna to win the Sao Paulo race.
Schumacher's first retirement was followed by the arrival of the similarly high-profile Kimi Raikkonen for 2007 and while the Finn clinched that year's title, in 2008 it was Massa who emerged as Ferrari's number one driver. Overcoming a poor start to the year, he was still in the hunt for a first crown at the season-ending Brazilian GP and a serene home victory in the wet at Interlagos famously made him 'world champion for 30 seconds' until Lewis Hamilton made ground on the most dramatic of final laps.
The Brazilian began 2009 in disappointing fashion, with Ferrari off the pace, but his season ended during qualifying for the Hungarian GP, where he was hit on the helmet by a spring which had broken loose from Barrichello's car, knocking him unconscious and sending his car hurtling into the barriers. With Massa's life hanging in the balance, he was taken to a Budapest hospital for emergency surgery having suffered skull fractures.
Massa was placed in a medically-induced coma as doctors waited for the swelling to subside before he was finally able to leave hospital 10 days after the accident. He came back in steady fashion in 2010 but was forced to play a supporting role alongside new star team-mate Alonso, culminating in the infamous 'Fernando is faster than you' message in Germany, where he meekly handed over the lead. It would set the tone for four years in the Spaniard's shadow.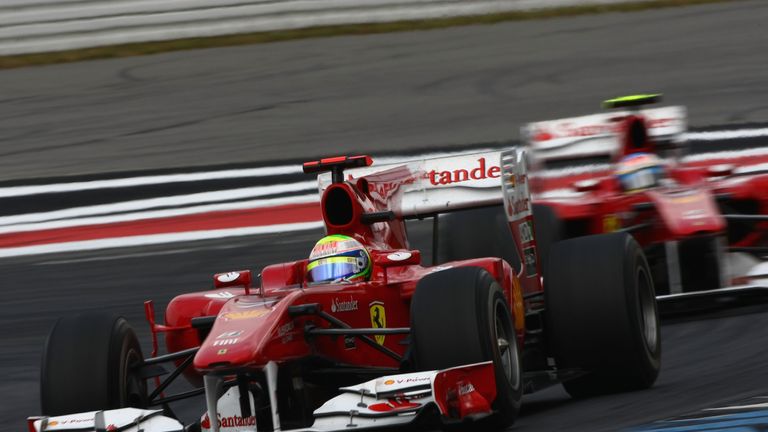 Massa failed to reach the podium at all during 2011 and also made contact with Hamilton no fewer than six times. His start to 2012 proved similarly depressing, particularly in Malaysia, where he finished 15th while Alonso won the race from Ferrari's then young protege Sergio Perez. At that stage, a mid-season sacking seemed a possibility, however, points in every race from Hungary onwards and a long-awaited return to the podium in Japan - the result which signalled that Ferrari would renew his contract for another year - was capped by an emotional season-ending podium on home soil at Interlagos.
The upturn continued into the early weeks of 2013 as Massa outqualified team leader Alonso in both Australia and Malaysia, but a third place in Spain ultimately proved his sole rostrum of the year while the Spaniard took nine. A curious mid-season run of crashes suggested the writing was on the wall and Ferrari ultimately decided that it was time to make a change for 2014 - although they graciously allowed Massa to make the announcement that he was leaving himself.
Initially it looked as though Massa may have to look outside of F1 for 2014 but rebuilding Williams valued both his experience and speed and hired him to partner the young Valtteri Bottas. While there was an early flashpoint between the pair in just their second race together in Malaysia when Massa ignored an ill-advised Williams call to let his team-mate past in the closing stages of the race, the pairing proved a success and helped propel the Grove team to a fine third in the Constructors' Championship - their best finish for nearly a decade.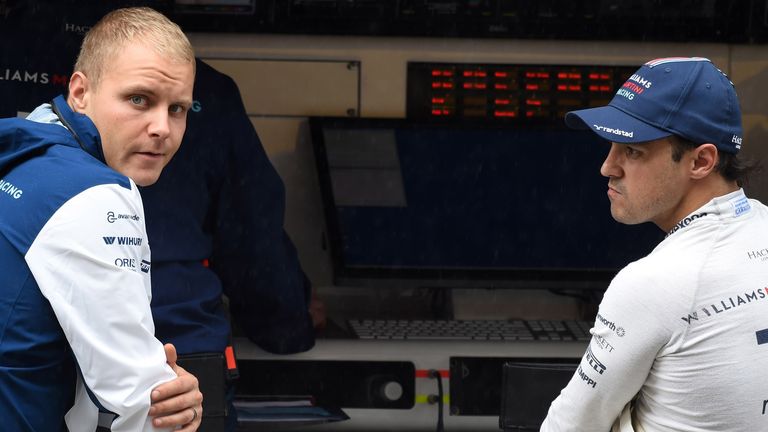 The impressive Bottas outqualified and outpointed Massa during the course of 2014 but the Brazilian shrugged off an accident-filled first half of the year - he was involved in big crashes in Australia, Canada, Germany and Britain - to claim all three of his podium finishes in the final seven rounds.
Emotional third places in Monza, the home of Ferrari, and on his own home soil of Interlagos were capped by a runner-up finish at the Abu Dhabi season finale when he chased new world champion Hamilton over the line.
Williams were unable to take the next step and win races in 2015, with Ferrari moving in between the Grove team and their engine suppliers, but Massa still delivered some fine drives, finishing third in Australia and again in Italy. A storming start at Silverstone even saw him lead the opening 18 laps of the British GP, before Williams were overhauled by Mercedes and he finished fourth.
By the end of the season it was Bottas who again had the upper hand, beating Massa to fifth in the standings by 15 points despite starting one fewer race.
But expect Felipe to keep his younger team-mate honest again in 2016.