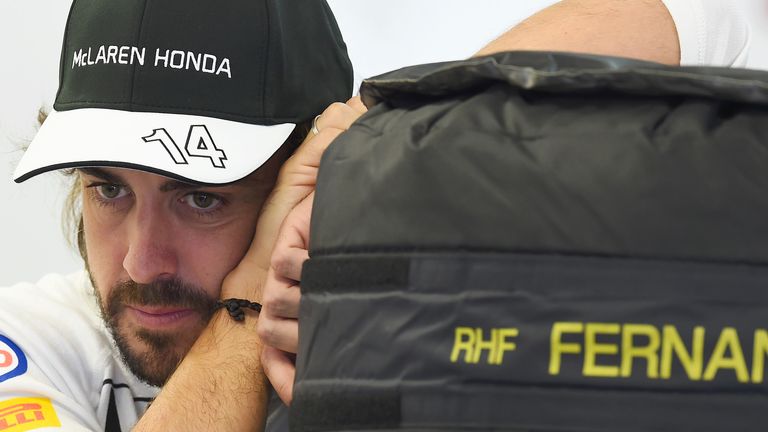 A full decade has now passed since Fernando Alonso last became world champion.
The back-to-back titles of 2005-2006 with Renault have been followed by plenty more wins, podiums and plaudits, yet the driver who many have long considered F1's most complete remains stuck one short of his career ambition of three championships.
And in 2015 that dream proved further away than ever as Alonso's high-profile return to McLaren from Ferrari to spearhead their second Honda era proved more of a let-down than anyone could have imagined.   
With the Japanese engine maker beset by a maelstrom of technical problems, McLaren and their all-world champion driver line-up of Alonso and Jenson Button spent most of the year in uncharted territory at the back of the grid.
Alonso, despite his best attempts at stoicism, couldn't completely hide his frustration and speculation persists that the 34-year-old could opt to take a sabbatical, or even retire from F1 completely, if pre-season testing provides no evidence of a breakthrough.
But whenever Alonso calls time on his career in the years ahead F1 will undoubtedly lose one of its most talented-ever drivers.
The Spaniard's talent was obvious from his very first steps in F1 machinery with backmarkers Minardi as a 19-year-old and it was no surprise when his manager, and Renault team boss, Flavio Briatore promoted him to the role of the Enstone team's test driver for 2002 and then handed him a race seat the following year.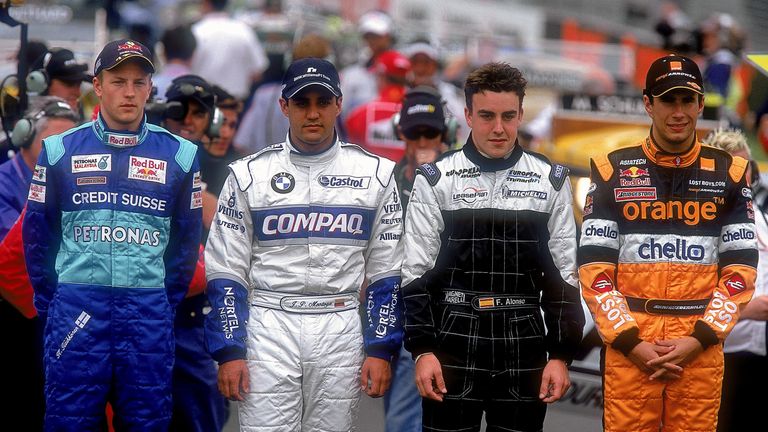 Alonso's rise was astonishing. The next 12 months saw him become the youngest driver ever on pole and the youngest to set a fastest lap, while his win in Hungary in 2003 made him the youngest ever race winner at the time.
Momentum subsided the following year but Alonso hit back comprehensively in 2005, claiming seven wins and eight other podium finishes on his way to the becoming the youngest ever world champion.
Despite announcing in November 2005 that he would be joining McLaren for 2007, Alonso stayed with Renault for the 2006 season and went on to claim back-to-back titles after beating Michael Schumacher in a thrilling season-long duel.
In the end, he only missed out on the hat-trick by a point after joining McLaren the following year. But Alonso's move to Woking proved ill-fated as he spectacularly fell out with team boss Dennis - the emergence of rookie team-mate Lewis Hamilton, who Alonso came to perceive was enjoying favourable backing, as a title contender being the sticking point.
The Spaniard was soon on his way back to Renault and although the team were not the force of old come 2008, Alonso still produced results beyond the car's capabilities and a late-season surge saw him finish fifth in the standings. 2009, however, proved a massive disappointment and the team ended the campaign engulfed in high controversy after the events of the previous year's Singapore GP, which Alonso won after team-mate Nelson Piquet Jr. deliberately crashed, came to light. After months of speculation, it came as little surprise when he left for Ferrari to replace Raikkonen.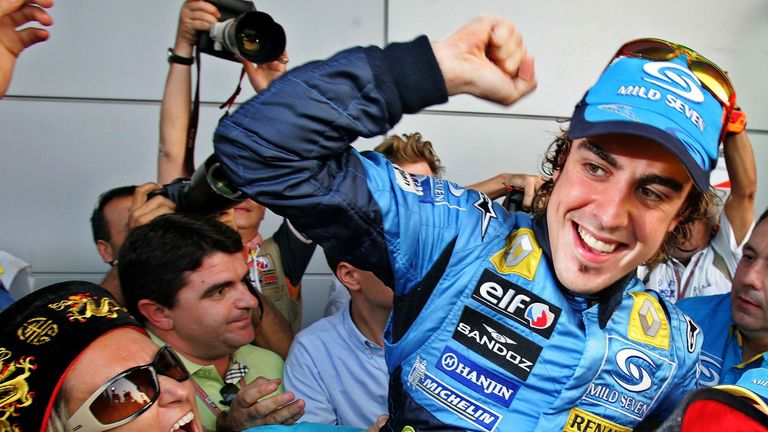 Alonso's career in red started in fine style, winning the season-opening Bahrain GP. But from there it went downhill, culminating in a row in Germany after Felipe Massa was given orders to move over, handing his team-mate victory. The fine that controversial move triggered seemed a very small price to pay as the win sparked a turnaround in form for Alonso, who went on to win the Italian, Singapore and Korean races, putting him firmly in the hunt for the world title. Heading into the final race in Abu Dhabi, Alonso was leading the fight, but a strategic pitwall error cost him and allowed Vettel to take the title by four points.
That miss inspired many a comment from Alonso and Ferrari about how 2011 would be better, about how they would atone for their mistakes and about how they would seek revenge. That never happened, however, and the season ended with just one victory at Silverstone.
Year three seemed set to follow a similar pattern as a disastrous pre-season with the new F2012 saw the team over a second off the pace, and not even able to make Q3, at the season-opener in Australia. But a battling fifth place in race conditions would ultimately set the tone for the year as Alonso repeatedly overcame middling qualifying results.
Two surges through the grid - from ninth to first in the rain in Malaysia and 11th to victory on home soil in Valencia - were the stunning highlights and all of a sudden Alonso held a 40-point advantage over his rivals at the halfway point of the season.
The impossible dream suddenly seemed achievable but on the resumption of the season, two costly first-corner exits at Spa and Suzuka, and a four-race winning streak from Vettel, swung the title race in the German's favour despite a nail-biting decider in the rain of Interlagos.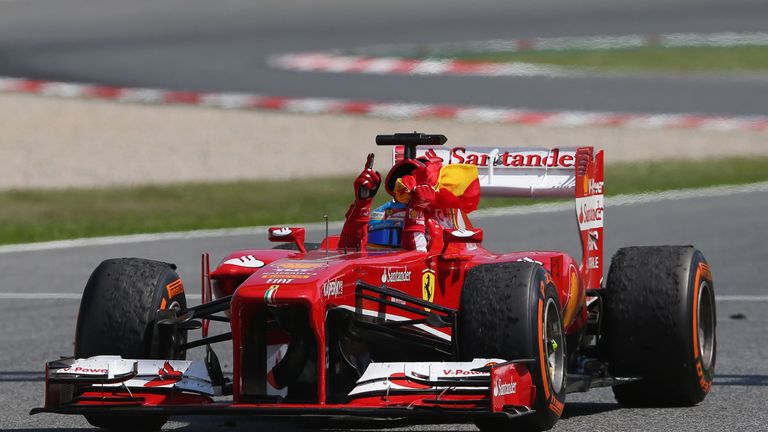 That was close as Alonso would get to becoming Ferrari's next world champion. In 2013 he finished second to Vettel again, but the early promise shown by two early-season wins in China and Spain never materialised into a serious challenge as Red Bull's dominance went up a gear.
During the course of that season the first cracks in Alonso's Ferrari dream started to appear too: the Spaniard publicly rebuked by President Luca di Montezemolo for tongue-in-cheek comments about the team's underperforming car and details emerging of supposed attempts to engineer a move to Red Bull.
Alonso's simmering frustration then finally came to a head in 2014. With Ferrari off the pace in the first year of F1's new turbo engine era, and the team going through the season without a win for the first time in 21 years, the Spaniard decided that enough was enough and negotiated an early termination of his contract with two years of the deal still to run.
That opened the door for his 'back to the future' switch to McLaren - a reunion which previously had been considered unthinkable. But having patched up his differences with Dennis, and stressed he was now older and wiser, Alonso was unveiled as a McLaren driver for a second time in December 2014, with Jenson Button staying on as his team-mate.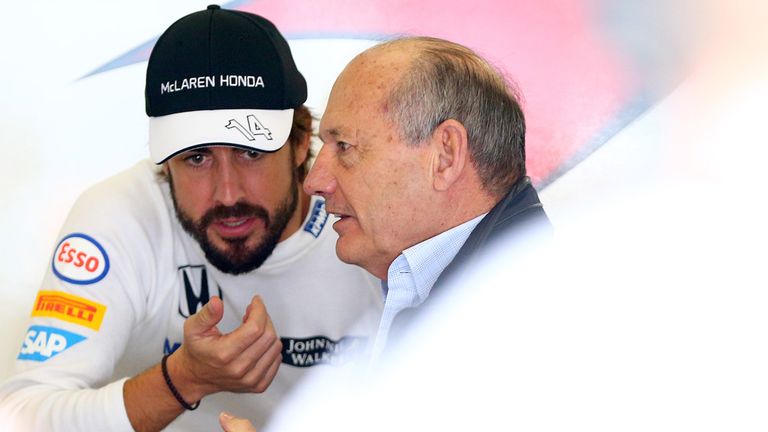 Hopes were high that McLaren and Honda could recapture their glory days from the late 1980s and early 1990s but realistiation of the bigger-than-expected challenge that lay ahead dawned when the MP4-30 was woefully off the pace in pre-season testing.
Alonso missed the final test - and then the season's first race in Australia - after a mysterious crash at Barcelona had left him hospitalised, and although he showed no ill-effects on his return to action in Malaysia, even the two-time champion was unable to make up for the McLaren-Honda's chronic failings.
With the team he had just left, Ferrari, returning to winning ways, McLaren failed to reach Q3 all season and Alonso finished in the points just twice. Button became the first team-mate to outscore him over a season, but it hardly counted for much in such a wretched year.
At Honda's home race in Japan, an angry Alonso described the power unit as a "GP2 engine" over team radio, but continued to publicly insist that McLaren was the team still likely to topple Mercedes in the long-term.
The problem for a driver who turns 35 in 2016 is that time is already running out.